Cabernet Sauvignon
2010 Cabernet Sauvignon – $28.00
The 2010 ViñAlegre Cabernet Sauvignon is distinguished by an intense ruby red color. Rich aromas of black currant and plum are an invitation to savor the layers of cherry and blackberry intermixed with essences of sweet vanilla oak. The mid-experience evokes remembrances of classic Cabs of significance. Balanced and well-structured, the finish lingers with a distinct Paso Robles Cabernet back-palate aromatic. Pairs exceptionally well with grilled or roasted meats. Drink now or lay down for five to eight years.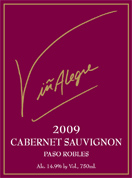 2009 Cabernet Sauvignon – Library
The 2009 ViñAlegre Cabernet Sauvignon shows intense dark ruby red color with complex plum and black currant aromas. Definitive and fruit-forward, the wine offers substantial body with a supple finish that blankets the back palate with a velvety smoothness and distinctly Cabernet afterflavor. Enjoyable now either alone or paired with foods that benefit from a rich and balanced wine. and wild berry flavors enhanced by well-integrated tannins.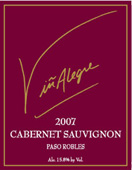 2007 Cabernet Sauvignon – $34.00
The 2007 Cabernet Sauvignon is classic Paso Robles terroir embodied in an exceptional red wine that shows its herbal and mineral components. It pairs well with all red wine foods and enhances the experience of both the wine and the food. Alone, it rewards the palate with distinguished sensory moments.
Further tasting reveals a distinctive flavor mix of dried cherries, plum, clove, and black pepper. It exhibits Paso Robles terroir with earthy notes that are almost a cross between Zinfandel and Cabernet. A lively mouthfeel with hints of sage gives way to a lingering spicy palate – it doesn't leave you flat. Decanting the wine before serving opens the native Paso Robles Cabernet aromas that tease the nose with a frontier freshness. Close your eyes as you taste – you may feel the old west. It appeals to every corner of your mouth. Serve it with beef dishes, pasta, Cioppino-style fish preparations, BBQ and Thai food. It will enhance and commemorate your meal experience. Enjoy now or over the next several years.