Merlot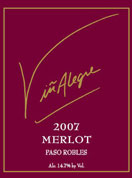 2007 Merlot – $28.00
The 2007 Merlot is Paso Robles Merlot at its Bordeaux-style best. Lush up-front flavor flows to a balanced red-winepalate experience with a finish that lingers well beyond the taste. Best enjoyed by itself, it will add significant red wine shades to appropriate food pairings.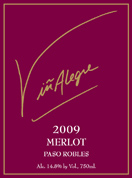 2009 Merlot – $28.00
The ViñAlegre 2009 Merlot offers abundant aromas of ripe plum and black cherry with hints of mocha and cedar. On the palate, the wine is lush, supple, and elegantly structured, with rich, bright cherry and wild berry flavors enhanced by well-integrated tannins.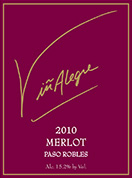 2010 Merlot – $28.00
The ViñAlegre 2010 Merlot is a classic garnet color and offers full aromas of plums, black cherry and cedar. The palate is captured in lush fashion with flavors of dark fruits and overtones of mocha. Balanced with integrated tannins and tight structure, it caresses the mouth and lingers with a cherry vanilla finish in true Merlot character. It will age for five to eight years.