Primitivo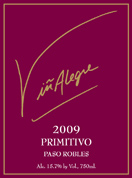 2009 Primitivo – SOLD OUT
The ViñAlegre 2009 Primitivo is Estrella basin Primitivo at its best. Lush up-front flavor flows to a balanced red-wine palate experience with a finish that lingers well beyond the taste. Deep color provides a significant visual episode. Full, rounded body delivers a positive and satisfying mouthfeel. Best enjoyed by itself, it will add significant red wine shades to appropriate food pairings. Drinkable now, or let it age for three to five years.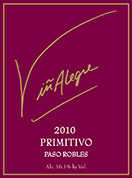 2010 Primitivo – SOLD OUT
The ViñAlegre 2010 Primitivo is a characteristic expression of the Primitivo grape which is part of the Zinfandel family. Bright fruit flavors of blackberry and plum evolve into an impressive balance of body, mouthfeel and tannin. Appropriate for all red wine occasions, the wine rewards the palate with a rich Paso red wine experience. Drinkable now, and, if any remains in your cellar, it will age for at least three to five years.