Rosé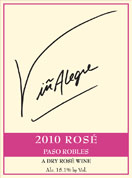 2010 Rosé – SOLD OUT
The 2010 Rosé blends primary Bordeaux grapes Cabernet Sauvignon and Merlot with a touch of Paso Robles Primitivo to create a wine with fragrant aroma and a decisive grape-forward flavor that evokes essences of its component grapes on the palate and provides a lingering finish that leaves a positive sensory Bordeaux-style rosé mouthfeel. It pairs with all foods and also provides a significant solo experience.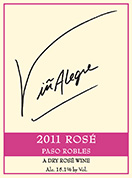 2011 Rosé – SOLD OUT
The 2011 ViñAlegre Rosé continues its Bordeaux-style heritage with a palate-pleasing blend of Cabernet Sauvignon and Merlot. Distinct aromas of rose-petal and cherry blossom give way to a fruit-forward burst of cranberry and strawberry essences. A crisp, lingering aftertaste leaves a pleasant sensation on the back palate. Definitely a wine with dry aperitif aspects, it pairs with foods of differing styles, from Asian to Mexican to Texas BBQ. It is a wine for all seasons and all tastes.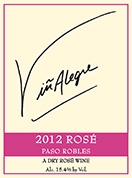 2012 Rosé – SOLD OUT
The 2012 ViñAlegre Rosé adds Primitivo to the Bordeaux-style Cabernet Sauvignon and Merlot components to create a crisp, distinct blend with raspberry and strawberry aromas and flavor. Balanced, refreshing and dry, the wine definitely completes a summer afternoon experience. Enjoy it alone, or pair it with nearly every food style, especially Asian, Mexican, or Texas BBQ.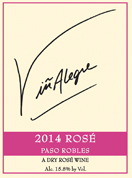 2014 Rosé – SOLD OUT
Continuing the sold-out tradition of the previous vintages, the 2014 Rosé blends Cabernet Sauvignon, Merlot and Primitivo into a sensory-pleasing experience of crispness and aroma. Your palate will be rewarded with every sip of this dry and fruity blend. The saigneé processing method extracts the essence of each component grape 24 hours after crush to create a food-friendly wine that is also an artistic achievement. More than a summer wine, it enhances any meal with its distinctive color and food pair-ability. Enjoy it alone on a summer's day or with a festive winter holiday feast. It will play well almost anywhere you can imagine.